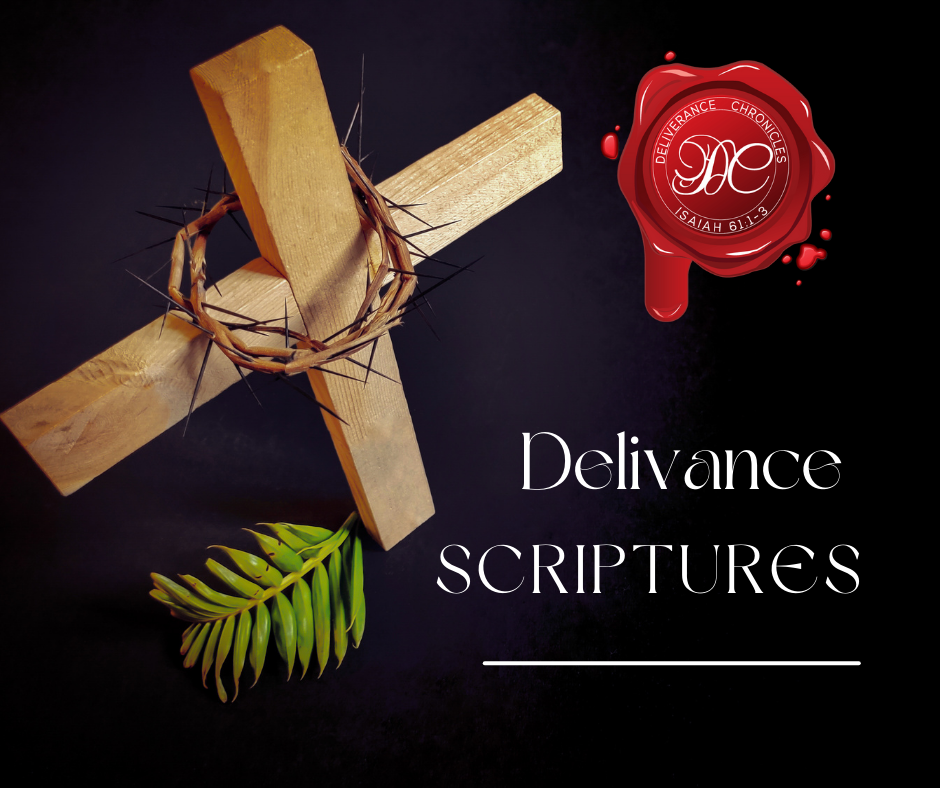 The word "deliver†appears 383 times throughout the books of the Bible. The graph below shows the locations of each appearance. It begins with Genesis in the top left and concludes with Revelation in the bottom right.
Here are the 50 most mighty Bible scriptures on deliverance.
Psalm 34:17
When the righteous cry for help, the Lord hears and delivers them out of all their troubles.
Psalm 107:6
Then they cried to the Lord in their trouble, and he delivered them from their distress.
Psalm 50:15
"And call upon me in the day of trouble; I will deliver you, and you shall glorify me.â€
2 Samuel 22:2
He said, "The Lord is my rock and my fortress and my deliverer.â€
Psalm 34:4
I sought the Lord, and he answered me and delivered me from all my fears.
1 Corinthians 6:18
Flee from sexual immorality. Every other sin a person commits is outside the body, but the sexually immoral person sins against his own body.
1 John 2:20
But you have been anointed by the Holy One, and you all have knowledge.
2 Chronicles 20:17
You will not need to fight in this battle. Stand firm, hold your position, and see the salvation of the Lord on your behalf, O Judah and Jerusalem. Do not be afraid, and do not be dismayed. Tomorrow go out against them, and the Lord will be with you.
2 Chronicles 7:14
If my people who are called by my name humble themselves, and pray and seek my face and turn from their wicked ways, then I will hear from heaven and will forgive their sin and heal their land.
2 Peter 2:9
Then the Lord knows how to rescue the godly from trials, and to keep the unrighteous under punishment until the day of judgment.
2 Samuel 22:1
And David spoke to the Lord the words of this song on the day when the Lord delivered him from the hand of all his enemies, and from the hand of Saul.
2 Thessalonians 3:3
But the Lord is faithful. He will establish you and guard you against the evil one.
2 Timothy 3:16
All Scripture is breathed out by God and profitable for teaching, for reproof, for correction, and for training in righteousness.
Acts 10:38
How God anointed Jesus of Nazareth with the Holy Spirit and with power. He went about doing good and healing all who were oppressed by the devil, for God was with him.
Colossians 1:13
He has delivered us from the domain of darkness and transferred us to the kingdom of his beloved Son.
Exodus 14:13
And Moses said to the people, "Fear not, stand firm, and see the salvation of the Lord, which he will work for you today. For the Egyptians whom you see today, you shall never see again.â€
Galatians 5:1
For freedom Christ has set us free; stand firm therefore, and do not submit again to a yoke of slavery.
Genesis 17:1
When Abram was ninety-nine years old the Lord appeared to Abram and said to him, "I am God Almighty; walk before me, and be blameless.â€
Genesis 45:7
And God sent me before you to preserve for you a remnant on earth, and to keep alive for you many survivors.
Isaiah 43:13
"Also, henceforth I am he; there is none who can deliver from my hand; I work, and who can turn it back?â€
Isaiah 61:3
To grant to those who mourn in Zion— to give them a beautiful headdress instead of ashes, the oil of gladness instead of mourning, the garment of praise instead of a faint spirit; that they may be called oaks of righteousness, the planting of the Lord, that he may be glorified.
James 4:7
Submit yourselves therefore to God. Resist the devil, and he will flee from you.
James 5:16
Therefore, confess your sins to one another and pray for one another, that you may be healed. The prayer of a righteous person has great power as it is working.
Joel 2:32
And it shall come to pass that everyone who calls on the name of the Lord shall be saved. For in Mount Zion and in Jerusalem there shall be those who escape, as the Lord has said, and among the survivors shall be those whom the Lord calls.
John 1:1
"In the beginning was the Word, and the Word was with God, and the Word was God.â€
John 15:7
"If you abide in me, and my words abide in you, ask whatever you wish, and it will be done for you.â€
John 3:16
For God so loved the world, that he gave his only Son, that whoever believes in him should not perish but have eternal life.
John 8:32
"And you will know the truth, and the truth will set you free.â€
Luke 10:19
"Behold, I have given you authority to tread on serpents and scorpions, and over all the power of the enemy, and nothing shall hurt you.â€
Luke 4:18
"The Spirit of the Lord is upon me, because he has anointed me to proclaim good news to the poor. He has sent me to proclaim liberty to the captives and recovering of sight to the blind, to set at liberty those who are oppressed.â€
Luke 4:32
And they were astonished at his teaching, for his word possessed authority.
Luke 7:47
"Therefore I tell you, her sins, which are many, are forgiven—for she loved much. But he who is forgiven little, loves little.â€
Mark 1:25
But Jesus rebuked him, saying, "Be silent, and come out of him!â€
Mark 16:17
"And these signs will accompany those who believe: in my name they will cast out demons; they will speak in new tongues.â€
Matthew 10:1
And he called to him his twelve disciples and gave them authority over unclean spirits, to cast them out, and to heal every disease and every affliction.
Philippians 1:6
And I am sure of this, that he who began a good work in you will bring it to completion at the day of Jesus Christ.
Philippians 4:8
Finally, brothers, whatever is true, whatever is honorable, whatever is just, whatever is pure, whatever is lovely, whatever is commendable, if there is any excellence, if there is anything worthy of praise, think about these things.
Proverbs 28:13
Whoever conceals his transgressions will not prosper, but he who confesses and forsakes them will obtain mercy.
Psalm 10:12
Arise, O Lord; O God, lift up your hand; forget not the afflicted.
Psalm 107:20
He sent out his word and healed them, and delivered them from their destruction.
Psalm 18:17
He rescued me from my strong enemy and from those who hated me, for they were too mighty for me.
Psalm 32:7
You are a hiding place for me; you preserve me from trouble; you surround me with shouts of deliverance. Selah.
Psalm 40:13
Be pleased, O Lord, to deliver me! O Lord, make haste to help me!
Psalm 40:17
As for me, I am poor and needy, but the Lord takes thought for me. You are my help and my deliverer; do not delay, O my God!
Psalm 40:2
He drew me up from the pit of destruction, out of the miry bog, and set my feet upon a rock, making my steps secure.
Psalm 51:17
The sacrifices of God are a broken spirit; a broken and contrite heart, O God, you will not despise.
Romans 10:13
For "Everyone who calls on the name of the Lord will be saved.â€
Romans 5:8
But God shows his love for us in that while we were still sinners, Christ died for us.
Romans 8:6
For to set the mind on the flesh is death, but to set the mind on the Spirit is life and peace.
Zechariah 9:11
As for you also, because of the blood of my covenant with you, I will set your prisoners free from the waterless pit.
About Author