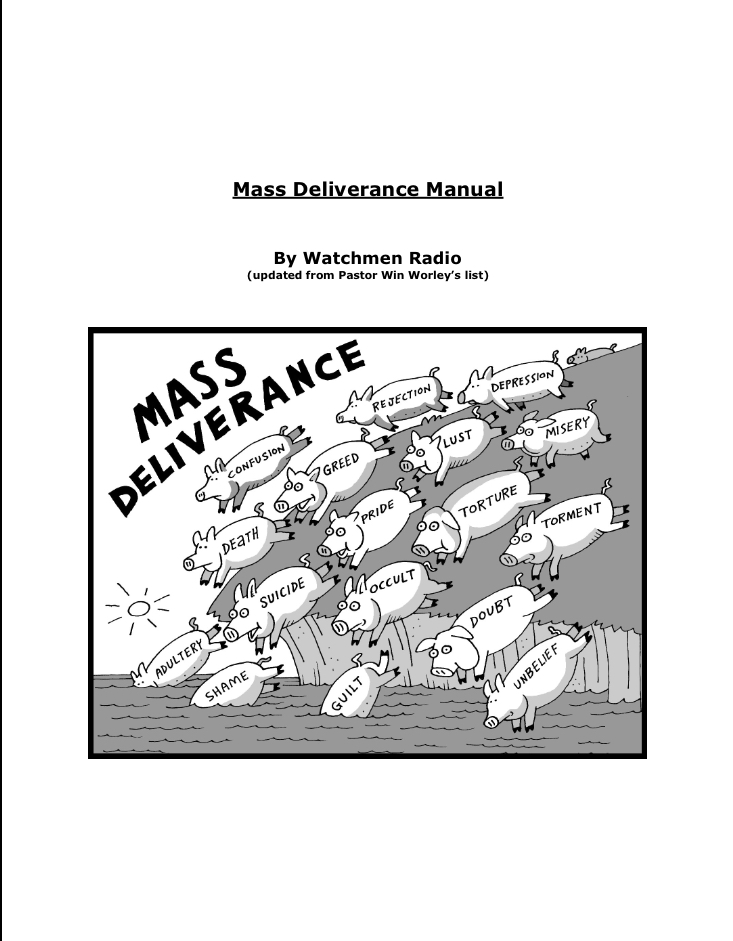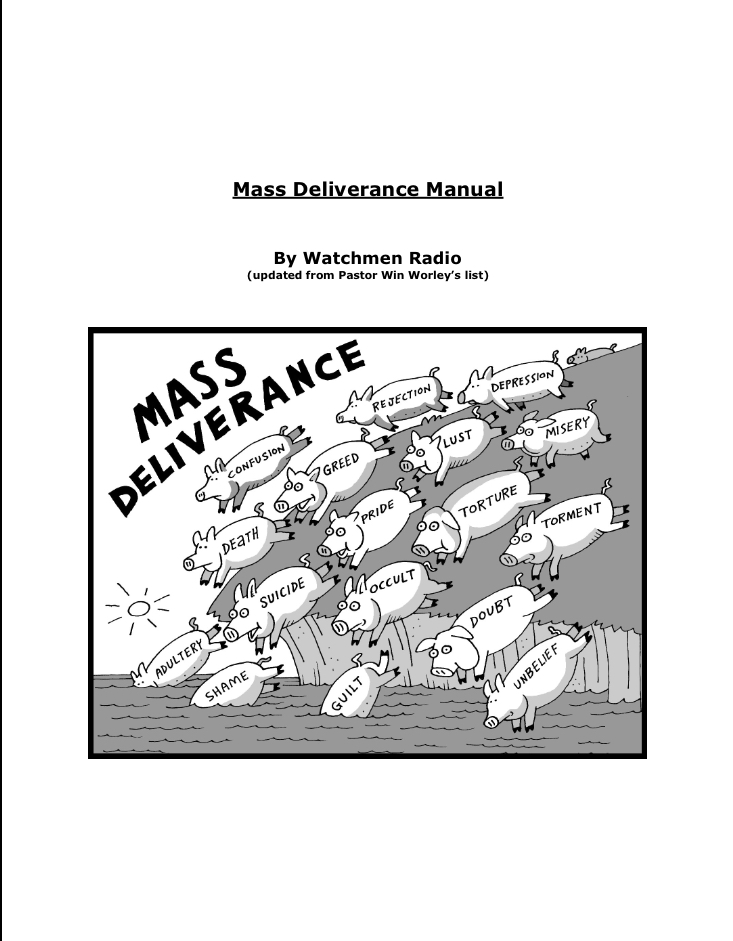 Version
Download

54

File Size

1 MB

File Count

1

Create Date

March 8, 2022

Last Updated

March 8, 2022
Mass Deliverance
Introduction
This manual is setup for optimum effects in stages against the devil's kingdom. The process of deliverance from demons is first achieved by taking away the demons' "rights," or what I call spiritual cages. They have a binding either from personal sin, ancestral sin, witchcrafts, soulties or trauma. Breaking these curses or spiritual cages is achieved by
renunciations. Once the five gateways are dealt with on a mass level, demons have no leg left to stand on and must move! The five areas that are detrimental to cover in renunciations are: 1) Releasing yourself from any unforgiveness or bitterness, 2) Renunciation of any form of the occult, 3) Breaking ungodly soul ties (by name for best effects), 4) Ministering the Blood of Jesus upon any trauma that
occurred in your past, known or unknown and 5) Confession of your own sins and ancestral sins of the forefathers. These will be included in the back of this manual. In regard to listing all these spirits and their functions, we are coming against the most common families and
groups in a complete blitzkrieg style, that Pastor Worley called "casting the net out." This is a very effective method of deliverance. Don't be overwhelmed with the list, but rather take your time, and see what God can do! This Mass Deliverance manual is derived from Pastor Win Worley. We have updated some areas to include modern day iniquities that are
manifesting i.e., the internet etc., and we are including six sermons that have been transcribed from audio on the four sections of renunciations, the most important one being, "Can a Christian have a demon." That sermon should be observed to aid you in overcoming one of the devil's biggest blinders in history. Christians can and do have demons. By keeping Christians in the mindset that they were delivered of everything on the day of salvation, and no more deliverance is needed, the devil has kept himself covert. Before each renunciation we will include a note to what sermon we transcribed into text and the audio times if you choose to listen to them. We are including the transcribed audios of each of the sermons to aid you in building your own mini-sermons before each renunciation process.These are long sermons which by no means were all used by Pastor Win Worley at any one time during a Mass Deliverance. They are taken from a series of many Mass Deliverances performed under his ministry. Read them and conform them into your deliverance service.Keep in mind you can also achieve great results on yourself following
this outline in self-deliverance on yourself.