I know I have a spirit spouse now what?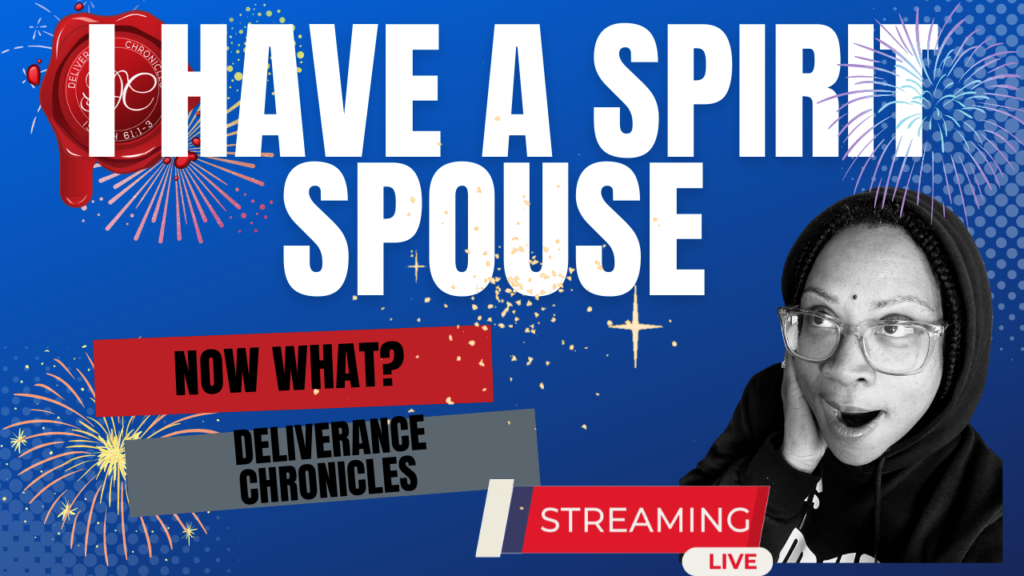 I remember growing up thinking about what I was experiencing as I was thought a Nocturnal emission. I simply believed as I was taught in biology was a natural occurrence. I spent many years as a single man and I sewed my oaths like all young single American men. It wasn't until I was in a marriage covenant relationship I began to recognize that sexuality in my dreams was an issue. I was ashamed to tell my wife because of the fear of being castigated or in my mind not saved enough. Subsequently, I was in conversation with Minister Kevin L A Ewing after listening to his teachings. I had these lewd sexual dreams after I said a prayer designed to break covenants with the entities that would invade my dreams and bring sexual intimacy with them. Quite frankly I had never met anyone who dealt with this issue and from time to time had these occurrences in different levels of frequency.
I'm writing this blog to inform the men and women who are called to my voice that this is something that can be dealt with. It's not a matter of salvation, in other words, I am not saying you are not saved. I am simply saying we need to be free from these occurrences that either establish or reinstate covenants. So in an effort to make sure we have what we need and understand the symptoms and the solution, I have added some teachings from my brother and friend Evangelist Tony Laurent to this blog.
There are four (4) types of spiritual marriages:
Fallen angels who came and slept with women.
Women who come in a dream to sleep with people.
Sexual thoughts become dreams.
Spirits of the dead who come to sleep with humans.
​KNOW IF YOU HAVE A SPIRIT HUSBAND OR WIFE:
You will suffer from being single for a long time
You will have problems keeping a boyfriend
You will have miscarriages
You will have a problem getting pregnant
You will experience nocturnal arousal, sexual attacks in dreams, or in the phase between sleep and awake.
You will experience Incubus- spirits having sexual intercourse with you
Your marriage will be ruined- problems- troubles, – hells…
You will experience rejection by lovers, or rejection and humiliation during dating…
You will have trouble during sexual intimacy with your spouse
You will have a hard time being sexually satisfied by your mate
You can also experience Stillborn babies
Divorce and separation are also caused by spirit husbands.
You will experience low sexual desire or arousal for your spouse- low Libido.
Also, you will feel see or hear things in your room and feel a presence on your bed.
Whenever a man gets an erection at the initiation of passion, but when he is ready for penetration, he suddenly gets a limb.
When the woman is hardly in the mood for sex or has no appetite for intimacy, which seems to be a customary thing, then this is not normal.
If the spouse is continually feeling too tired for any form of intimacy [kissing or making out or even sex] in the slightest form, and it's a habitual thing without any explanation… it may be a spirit husband.
Irregular bleeding, infections, or unnatural discharges which prevent intimacy continually may be a sign of marine spouses.
The problem is forgiving past lovers and having a hard time totally forgiving your husband can be a result of a spirit spouse.
People who are gay, bisexual, or homosexual have marine spirit spouses. But the gays are spirits of Sodom and Gomorrah that dwell under the Sea. A Concentration of Hermaphrodite demons was found in Sodom and Gomorrah.
Rape, Molestation, or Prostitution are evidence of the presence of marine spouses and are doorways to deeper bondage.
Sexual Acts- Pornography, Soap Operas, R-Rated Movies, love Charms, love baths, Love Incenses, Enchanted Perfumes, and the usage of other enchanted feminine Products are all doorways but are also evidence of the presence of marine spouses.
When you feel like somebody is sitting on your bed or somebody is laying down on your side on the bed, or if you felt that your clothes or sheet moved, this is a spirit lover.
Dreamlike sexual assault between sleep and awake is the presence of a spirit spouse. This spiritual ecstasy can go into the transition into your consciousness after you awake. That's where u get up breathless etc.
Now there are different spirits. Some are humanoid demons, some are hybrids, and some are animals while some are in other unearthly forms. So, a spirit spouse can be any type of demon.
Necrophilia – (sexual intercourse with or attraction towards corpses)
Cemetery Demon lover. How to know if the spirit spouse is Necro – If you see in dreams that you are dining, eating, on a bed with a person who is dead in reality, or if a dead person gives you a ring, rose, gifts that people give in dating, or if there is any form of exchange or contact or communication that is only found in eros relationships.
In Dream, if you find yourself in the bedroom of a dead person, or a dead person is in your bedroom- this is a spiritual attachment.
Also, if you dream a dead person is sensually attracted to you or you are towards that dead person, it is a sign. It is a spirit spouse.
Botanophobia – A sexual aroused likely to be found amongst plant lovers. People who are batophiles are sexually aroused by plants; it is a spirit spouse.
Teratophilia – refers to the sexual attraction to either monsters or too deformed people. The word comes from the Greek meaning monster adjoined to love. This is a spirit spouse.
Dream where you are peeing and you found out that you are peeing in reality, it is a spirit of disgrace and is a marine spouse.
Playing with Eggs in dreams, eating Eggs in Dreams – These are substance of fertility and it represent your sexual union in the spirit.
Dreaming of snakes represents divination and spirit spouse. Dreaming of eggs from strange animals are eggs of water creatures… can represent the presence of spirit spouse.
Some women are saying they are not getting married, or they are not ready, even if they have been with the man for years. It is marine spirit
Financial struggle in men…. And always giving beautiful women your money and you cannot understand why you are feeling that pull to give them. It's like their beauty neutralizes you. It is a spirit spouse.
​Unless spirit husbands are not dealt with then a person cannot live in marital happiness or experience good relationships. Many times, there would be a sudden chaos unleashed in the relation.
---
HOW TO BREAK SPIRITUAL COVENANT WITH
​SPIRIT LOVERS
DESTROYING SEXUAL FORTRESSES
To be free, the demonic covenant of the spiritual marriage must be broken and replaced by a new covenant made with God. However, because there were offering made to the devil, the person must make an offering to God to seal the new heavenly covenant. This gives heaven legal right to rule against the demonic covenant and nullify it.
A letter of divorcement will then be issued by the Courts of Heaven to the kingdom of darkness notifying them that you are no more a legal participant of the evil covenant but is now under a new and holy covenant.
To break the demonic fortress around your life, You have to be in an atmosphere of Praise- Shabach Praise. Shabach means to shout unto God, to address in a loud tone or voice, to command… This is the only thing that could bring down the walls of Jericho.
They cannot stand praise and shout
Secondly, repent for allowing your body to be used as a sexual tool of evil spirits, and for all other sexual sins. ​
​​DIVORCEMENT FROM SPIRIT WIVES & HUSBAND​
To break the power and divorce a spirit husband or wife, there are (3) three things that are required:
Confession to God
Confession to a Servant of God so deliverance can be administered
An Offering to God (or a Seed).
​Confession to God is for forgiveness of sins; Confession to a man of God is for exposure of the darkness, and the Offering to God is to seal your covenant and create a platform for God to rule against and nullify the spiritual agreement and marital rights of the spirit. The seed allows the issuing of a divorce decree and seals the divorce by returning the dowry to Hell. This is also a new covenant with God that replaces demonic covenant.
All covenants are sealed with an offering. A marital covenant is also made with an offering as seen in many cultures. This is called a "Dowryâ€, (Exodus 22 :16). Though in the western world there is no dowry for the bride, yet in spiritual marriages there are sacrificial offerings for spiritual unions.
After exposing the demons, the Pastor must pray and break the marriage and curse.
When a person is under the manipulation of a demonic spiritual husband or wife, it's because there is a spiritual covenant. To all covenants there must be a sacrificial offering because the offering
activates the manipulation.
In order to be free, the demonic covenant of the spiritual marriage must be broken and replaced by a new covenant made with God. However, because there were offering made to the devil, the person must make an offering to God in order to seal the new heavenly covenant. This gives heaven legal right to rule against the demonic covenant and nullify it. A letter of divorcement will then be issued by the Courts of Heaven to the kingdom of darkness notifying them that you are no more a legal participant of the evil covenant but is now under a new and holy covenant.
​​
About Author