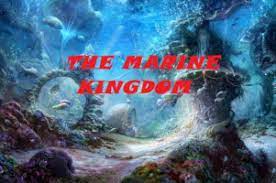 Marine Spirits And Marine Witchcraft are deceiving, subtle and at most unrecognizable until one is shown or revealed by the Spirit Of God.
Marine Spirits or Water Spirits are also called Dagon principalities, Mami Wata in West Africa and Ma-Jinn (Mahaba) kike au la kiume in Swahili. These spirits are both Male and Female, in the Spiritual realm they are called Marine because they dwell in waters, from Rivers, Waterfalls, Seas, Lakes, Streams, Drainages, Wells, Dams and anything else as a water body.

Job 26:5, "Dead things are formed from under the waters, and the inhabitants thereof.â€
Dead things, dead powers, and Witchcraft are formed in Waters, beneath the seas, from its womb is another habitation of two Fallen Angels who inhabit these terrains and have made a habitation of their nature. Unseen to the Naked, yet existing within the physical sphere. This realm of Marine Spirits is a realm important to Fetish priests, Occult followers, Satanic worshippers and Wealth seekers of Dead persons via mediums or spiritists. It's a habitation where devil worshippers and devil agents mostly live and from which they affect the natural realm.
It's a realm split into two Divisions. The Atlantic ocean is governed by the Queen of the Sea, while the Indian ocean is governed by the queen of the Coast. Both of these queens are Fallen Angels and they are the Lead cause of Marine Influence upon the Natural world.
There are two classes of Marine spirits:
1 – Conscious Marine Agents or People.
2 – Unconscious Marine Agents or People. In the bible days, Marine Spirits were openly venerated by the Philistines who also lived by the Seas and they had in their land open manifestation of this spirit. This is the Spirit that destroyed Both Samson and Saul. The Philistines worshipped a god called "DAGONâ€, that was shaped after the Mermaid – Half Human and Half Fish. Biblically speaking, Dagon used Delilah as both a priestess and an agent to take hold of Samson.
Initiation
Sex as its Altar of Initiation, it also operates through Molestation and Incestuous workings. It's the Spirit behind the rise of the most hated bloodlines of men before God. The tribes God forbade his people never to intermarry with were born from these demonic influences. It's a spirit that possessed Lot's daughters and led them to Incest and Molestations.
Therefore the Main Areas This Spirit manifests itself in a people, family, tribe or even Nation is by:
1, Sex. That is a) Sleeping With either an Unknown or Known man, woman, both or even men or women in Dreams. b) Feeling like somebody is sleeping on top of you and pressing upon at night and you see nobody. c) Dreams of sleeping with influential men or women, celebrities, etc.
2 – Uncontrollable Masturbation Urges and Acts. You have an addiction to masturbate, or even at times you feel thrust into it without will power to suppress it. Masturbation due to the act of man or woman releases their seed when the man's semen is withdrawn and fall to the groud, it attracts a Demon that creates demon Larvae. According to God's word, Masturbation and Withdrawal are both one:
Genesis 38:9-10, "And Onan knew that the seed should not be his; and it came to pass, when he went in unto his brother's wife, that he spilled it on the ground, lest that he should give seed to his brother. And the thing which he did displease the Lord: wherefore he slew him also.â€
3 – Pornography. This a very bad and open addiction that leads to full demonic possession of Marine spirits to a persons life. The Bible forbid this. Pornography breeds lust of eyes that simply led to Adultery and Fornication of the Mind. Jesus Christ said, "He that looks at a woman lustfully has already committed adults to fly with her in his Heartâ€. IN SHORT, Pornography is the biggest altar of Marine initiation there's because by simply lusting, one is engaged in spirit to the act of sex.
4 – Using Enchantments Of Flesh And Marine Witchcraft To Lure Women or Men. The marine world of Satan is the biggest marketer of demonic Enchantments that today are taken fashionable by youthful generations and deceived, the follow easily to fall prey to these powers. These Enchantments range from visible to invisible objects and witchcraft workings. For example JEZEBEL was a Daughter of a Zidonian king. The Zidonians as I have pointed out were connected to marine Spirits by their goddess worship of Ashtoreth. The Zidonians had raised a Woman called JEZEBEL was is much connected to Marine Spirits through Her hidden Marine Witchcraft. JEZEBEL was the Mother of Whoredoms and Witchcraft which was deeply rooted in Marine Kingdom powers.

The following are the Demonic signs to MARINE SPIRITS:
– Barrenness Sometimes Is Associated with It.
– Chronic Masturbation.
– Dreams of Swimming in Rivers or Oceans.
– Dreams of Having Sex with known or unknown people are connected to Marine spirits.
– Dream of Playing with snakes and the presence of frogs in one's dream.
– Sudden and Mysterious missing of personal effects like Undergarments.
– Excessive Pride – Uncontrollable Anger And Outbursts.
– Suicidal Thoughts And Dreams of Been killed.
– Fear of Water, i.e. rivers, lakes, oceans.
– Constant Smell That's Irritating Even After Bathing.
– Wearing of Ornaments From Unknown Sources.
– Getting Mysterious Objects At Your House, Room Or Even Mysterious Letters.
– Been Initiated Through Unholy Sex, Fornication or Sex with Agents.
– Bedwetting Is A Clear And Also Associated With the Spirit Of Immaturity and Stagnation.
– Chronic Spinsterhood and Chronic Bachelorhood.
– Excessive Urge Of Sex Without Control.
– Excessive Lust.
– Dreams of Receiving Money from a very Beautiful Woman or Man.
– Breaking of Other people's marriage and be without remorse.
– A Youthful Man or Woman, unmarried and yet Desires Married Men or Women.
– The Marine Kingdom is the Number Promoter of Polygamy.
– Addicted to Music Ungodly Music.
– Dreams Of Been Given Excess Wealth from Unknown Sources In Return of Favors.
2 Kings 9:22, "And it came to pass, when Joram saw Jehu, that he said, Is it peace, Jehu? And he answered, What peace, so long as the whoredoms of thy mother Jezebel and her witchcrafts are so many?
Jehu under the anointing and power of the Spirit understood behind the fleshly veil of JEZEBEL, lie a monstrous Marine Agency of Witchcraft. What was Jezebel's marine Witchcraft that many has had many fall prey into: look at this – 2 Kings 9:30, "And when Jehu was come to Jezreel, Jezebel heard of it ; and she painted her face, and tired her head, and looked out at a window.â€
Painting of face And tying of Hair, or simply put in other translations: Eye liner, fixed up her hair and leaning on the window. According the prophetic anointing upon Jehu, the man Jehu knew this was a form of witchcraft enticement. Another scripture that confirms this is hidden in the wisdom of Solomon. Look at the book of Proverbs 6:25, "Lust not after her beauty in thine heart; neither let her take thee with her eyelids.â€
This is an example of the forms of Marine Enchantments that are put there. Not all beauty products of men and women are demonic, the issue here is, Marine Agents cast Invocations, Conjurations and Curses on such objects and things, and when used they open ways of Marine initiation.
Marine spirits are not spirits to play with. They deceive, create false and counterfeit love like the case of Samson and Delilah, they seduce greatly, they harass and so many other forms of Oppression. These spirits are hideous mostly from been detected. Though they openly can be seen from either Art, Imagery, Idols and even products associated either with Water, Heavenlies or Oceans. Marine Spirits because are associated with Water bodies, it has in its kingdom count less workings and signs. Marine spirits like water operating on 70 percent of any ground or Territory. Water is 70 percent in man's body, and also in the Earth, water covers 70 percent. Thereby the Marine Kingdom is extensive and has its tentacles in each city, town and villages. From lakes, rivers, wells, springs, dams and oceans, the Marine Kingdom has and is still effective in its functions. The marine Kingdom tends to be controlling to all that is marine Connected. From Food, Communication, Life, Clothing, Industries, Power Centres, Building and others. This marine Kingdom has recently grown strong and is recruiting a lot of innocent folks without their notice. As it's the End times, the Devil's falling is primarily upon two Habitations of men: A)Earth. B)Seas.
Revelation 12:12, "Therefore rejoice, ye heavens, and ye that dwell in them. Woe to the inhabiters of the earth and of the sea! for the devil is come down unto you, having great wrath, because he knoweth that he hath but a short time.â€
In this scripture, God is very direct: INHABITERS OF THE EARTH – MANKIND INHABITERS OF THE SEA -??? The water frontier as the biggest hiding of Forces and Kingdoms of the Devil is a big band of Evil Spirits, witches, warlocks, wizards, sorcerers, mediums, spiritists and devil agents of other classes. They inhabit and live in these Areas. The deep secret of the Elite ones who are partners with Satan and work after His ways understand know that beneath the seas are the foundation's of the World, and if shaken, they upon the land can be shaken. If by demonic spirits of the Marine Kingdom they can enchant these foundations, the effects can be felt globally. This is why its best to deal and destroy these marine spirits without compromise.
Psalm 24:2, "For he hath founded it upon the seas, and established it upon the floods.â€
God has unique set the Earth's foundation upon the Seas and upon its floods. This is why when the Devil in prophesy of John is cast down from Heaven, he comes directly, one upon the Land with the Beast that came up from the land, two upon the Seas with the Beast that came up from Seas. This makes it important to pray for the Foundation's of our Land. Marine spirits can also control a whole Town, City or Village from a simple Marine Kingdom department within the region. A Town, Village or City can be enchanted by Demonic Forces from the Marine Kingdom simply from a river, a well, spring or even a lake in proximity to the region. The Spiritual child of God should always demolish and destroy these satanic forces constantly in order to exercise complete liberty, success and progress in that region.
For example: 2 Kings 2:19-21, "And the men of the city said unto Elisha, Behold, I pray thee, the situation of this city is pleasant, as my lord seeth: but the water is naught, and the ground barren. And he said, Bring me a new cruse, and put salt therein. And they brought it to him. And he went forth unto the spring of the waters, and cast the salt in there, and said, Thus saith the Lord , I have healed these waters; there shall not be from thence any more death or barren land.
A Simple Spring in a City costed the entire City loss of men, Life, continuity and even caused Barren to itself land. This was a spring Enchanted by Marine Spirits. Through those marine powers, an entire was held captive until the Asked the Prophet for a way to stabilise the city, restore its life and bring vibrancy. The city was pleasing to the eye but it's dwellers were stricken by Marine Power that made them uncomfortable and distressed. Look at the region where you leave, whatever ills, constant deaths, funny missing children, wickedness that has managed to create its culture must be connected to either a Marine Agent, Marine Witchcraft or Marine Kingdom. Lastly, there's a Demonic Principality associated directly with the Water/Marine Kingdom of Darkness: THE LEVIATHAN. I can't fully speak on it now but in another Topic I will. This demonic Principality is a King Demon that lives beneath the seas.
Job 41:31, "He maketh the deep to boil like a pot: he maketh the sea like a pot of ointment. and also the Bermuda triangle and the other Deep Sea Hole are its working.â€
Psalm 104:26, "There go the ships: there is that leviathan, whom thou hast made to play therein.â€
Isaiah 27:1, "that day the Lord with his sore and great and strong sword shall punish leviathan the piercing serpent, even leviathan that crooked serpent; and he shall slay the dragon that is in the sea.â€
About Author