Prayer's for Judicial Victory!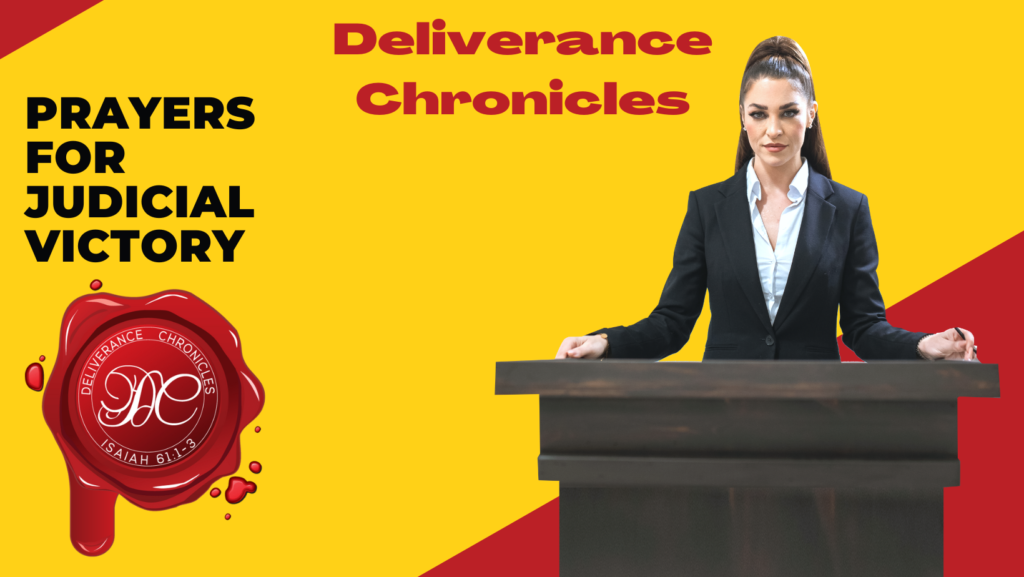 I pray Lord that you forgive any Sin that I may have committed to warrant this punishment and I pray Lord that you purge me completely and have mercy on me in Jesus's name.
Let every Allegation, Accusation, and Condemnation that stands against me in the realm of the spirit and the natural be dropped and buried under the blood of Jesus.
O Righteous Judge, be my Judge; therefore, let me not be judged and condemned by my adversaries.
You Lord Jesus are my heavenly Advocate and I trust that in this court matter I will soon be fully exonerated and totally vindicated in Jesus' name.
Lord, you know the reason for this court hearing, and we pray that you will oversee the whole procedure, and ask that in Your grace that true justice may be carried out, with impartiality in Jesus's name
Father, make it possible for me to find favor in the sight of the judge, in the name of Jesus, let me find favor, compassion, and loving-kindness with the jury, in the name of Jesus.
Loving Lord, I ask for Your grace and mercy as I prepare to face the verdict of this court case and I ask that in Your loving kindness and great goodness, all the accusations against me would finally be dropped and permanently dismissed in Jesus's Name
Lord, only You know the trouble and distress that this has caused me and my heart is anxious and fearful. for I know how fickle people can be – but Lord I am trusting Your amazing grace and perfect timing, and I pray that You would go before me to have this court case dropped completely and fully dismissed, and I will give You all the praise and glory.
I pray that you would go before me and fight for my cause and I ask that I will not be put to shame. Thank You that Your ears are ever open to the cries of Your children and thank You that You have promised to be my Defense and my Defender thank You that Your arm is quick to rescue all those that are trusting in You – and thank You in Jesus's name.
All the demonic obstacles that have been established in the heart of anyone against me in Court be destroyed, in the name of Jesus.
Every weight and influence by witchcraft and other magic powers that would be placed upon the Judge, Magistrate, and Jury, let evil spells be broken from off them, for my sake, In Jesus Name.
I bind and put to flight all the spirits of fear, anxiety, and discouragement that can cause frustration in the name of Jesus.
Lord, let divine wisdom fall upon all who are involved in this case with me and, I break the backbone of the spirits of conspiracy and treachery, in the name of Jesus.

Lord, in the name of Jesus Christ, I nullify every unrighteous decree against me, as a result of this case, in the name of Jesus.
I rain fire on their altars and shrines where they have intended to manipulate this case now in Jesus's name.
I overturn and overrule every judgment passed against me in the coven by fire in the name of Jesus.
I declare null and void every judgment passed against me in the marine and occultic world by fire in the name of Jesus.
I bind the spirits and demons released into the air to influence the lawyers and to give judgment in their favor in the name of Jesus.
I strengthen the spirit, soul, and body of my lawyer by the Blood of Jesus, Amen!
I release permanent confusion into the camp of adversaries before and during this case in Jesus Christ's Name, Amen!
Lord, I release Your words to scatter their evil witnesses and evidence in Jesus's name.
2nd Sam 15:31 And it was told David, "Ahithophel is among the conspirators with Absalom.†And David said, "O LORD, please turn the coun3+sel of Ahithophel into foolishness.â€
2Sam 15:34, "so now I will be your servant,' then you will defeat for me the counsel of Ahithophel.†Therefore, I declare that when my adversaries open their mouths in court to speak against me, beginning with their lawyers, they shall speak and utter foolish words after the order of AHITHOPHEL in Jesus Christ's Name, Amen!
I declare that I shall speedily come out victorious in this case in Jesus Christ's Name, Amen!
Written By Tony Laurent
About Author