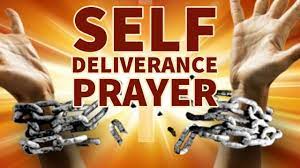 Self-Deliverance Prayer
Father God, I believe that Jesus died on the cross for my sins and rose again from the dead. He redeemed me by His blood and I accept Him as my Lord and Savior. I belong to You and I will live for You.
I confess my sins—known and unknown. I repent and ask for Your forgiveness. Please cleanse me with the blood of Jesus Christ. I renounce Satan and all his works.
Lord Jesus Christ, I come to You as my mighty Deliverer. You know every evil and unclean spirit that has bound, tormented and defiled me and my blood line. I claim the promise of Your Word, "Whoever calls on the name of the Lord shall be saved.†I call upon You now. In the name of the Lord Jesus Christ, I thank You for delivering me and setting me free.
As You forgive me for my sins and make me free, I also forgive myself for sinning against the Lord and for sinning against my body. By the power of the Holy Spirit, I forgive my ancestors, descendants, and everyone who has ever hurt me in any way, and I ask You to forgive them as well. I break all curses, hexes, vexes and demonic ties that bind. I break all soul ties caused by witchcraft or sexual sins. I decree and I declare that the yokes that held me bound are destroyed by the anointing of God.
Jesus, You gave Your disciples authority over all demons. You said, "Behold, I give unto you power to tread on serpents and scorpions, and over all the power of the enemy: and nothing shall by any means hurt you.†I now exercise that same power to set myself free.
According to the Word of God, I stand strong in the Lord and in the power of His might with the whole armor of God. In the finished work of Jesus Christ and in His name, I stand against the wiles of the devil; all principalities, powers, rulers of the darkness of this age, and against spiritual hosts of wickedness in high places.
Satan, I come against you in the name of Jesus Christ, by the blood of Jesus, by the Word of God, by power of the Holy Spirit, and by the authority of the Believer. I remind you that I sit in heavenly places with Christ Jesus. Jesus has given me power over you, your fallen angels, your demons and all forces of evil. Therefore, I command all evil and unclean spirits to line up in rank and file order, starting with the root, and come out quickly without hurting, harming or endangering me. Come out now in Jesus' name.
Father God, thank You for making me free. Thank You Jesus for destroying the works of the devil. Thank You Holy Spirit for restoring my fragmented soul – my mind, will and emotions. Now, I ask You to fill me with Your holy power. Fill me with love, joy, peace, longsuffering, kindness, goodness, faithfulness, gentleness, and self-control. I thank You in the name that is above all names, the name of our Lord and Savior Jesus Christ: My Deliverer, King and Master. Amen.
Scripture References
Romans 10:9, 10 I John 1:9 Romans 10:13 John 8:32
Isaiah 10:27
Luke 10:19 Ephesians 6:10-12 Acts 16:18
I John 3:8 Galatians 5:22-23
About Author