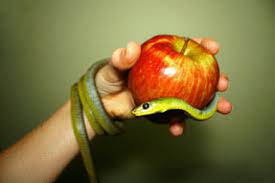 As I view this question through my own human frailty, my sinful nature, propensity, and proclivities I channel the apostle Paul and his writings in his epistle to the Romans. In verse 15 of chapter 7, he begins.
15 For that which I do I allow not: for what I would, that do I not; but what I hate, that do
16 If then I do that which I would not, I consent unto the law that it is good. 17 Now then it is no more I that do it, but sin that dwelleth in me.18 For I know that in me (that is, in my flesh,) dwelleth no good thing: for to will is present with me; but how to perform that which is good I find not.19 For the good that I would I do not: but the evil which I would not, that I do.20 Now if I do that I would not, it is no more I that do it, but sin that dwelleth in me.
I remember teaching bible study and being asked a difficult question, the question was this. Where did sin come from and who created it? I pondered and pondered for a while, it drove me to systematically investigate the question. This was quite a few years ago and my understanding is not what it is now nor what it will be in the future. The question drove me to read many books two that come to memory are "The Case for Christ†by reporter Lee Strobel and "I don't have the faith to be atheist†by Frank Turek and Dr. Norman L Giesler. Being a formerly incarcerated individual, a missionary to the federal bureau of prisons, inmate 295-070, pun intended, it allowed me to be in an environment where the inhabitants engaged in a myriad of religious beliefs with a pantheon of god's to whom they claimed to serve. Being a scholar in the making and wanting to be able to defend my faith it drove my investigation into an apologetic approach first which included an inquiry to cosmological arguments, causation, also including creation and the reasons why we have a conscience. Investigating these arguments and a deep theological dive led me to the answers that I sought. Holy Spirit usually would ask me questions that would cause me to seek Him and a greater theological understanding by studying scriptures.
Sin according to the holy scriptures was first committed by the archangel Lucifer in the abode of the almighty, heaven. When we deconstruct the mysticism of what sin is and where it emanates it is really quite simple really. It is a violation of the laws of GOD. Ezekiel 28:14 KJV says this about the matter.
14 Thou art the anointed cherub that covereth; and I have set thee so: thou wast upon the holy mountain of God; thou hast walked up and down in the midst of the stones of fire.15 Thou wast perfect in thy ways from the day that thou wast created, till iniquity was found in thee.
The prophet in his self-titled book wrote this Isiah 14:12-14KJV
12 How art thou has fallen from heaven, O Lucifer, son of the morning! how art thou cut down to the ground, which didst weaken the nations! 13 For thou hast said in thine heart, I will ascend into heaven, I will exalt my throne above the stars of God: I will sit also upon the mount of the congregation, in the sides of the north:14 I will ascend above the heights of the clouds; I will be like the most High.
The text describes the fall of Lucifer and the events that lead up to it. It gives us in an allegorical form I believe of the fall of lucifer now known as Satan.
I believe we need to define sin and its extrapolating derivatives such as transgression and iniquity.
Sin A — 1: á¼Î¼Î±Ïτία
(Strong's #266 — Noun Feminine — hamartia — ham-ar-tee'-ah )
is, lit., "a missing of the mark," but this etymological meaning is largely lost sight of in the NT. It is the most comprehensive term for moral obliquity. It is used of "sin"
Transgression A — 1: παÏαβαίνω
(Strong's #3845 — Verb — parabaino — par-ab-ah'ee-no )
lit., "to go aside" (para), hence "to go beyond," is chiefly used metaphorically of "transgressing" the tradition of the elders, Matthew 15:2; the commandment of God, Matthew 15:3; in Acts 1:25, of Judas, AV, "by transgression fell" (RV, "fell away"); in 2 John 1:9 some texts have this verb (AV, "transgresseth"), the best have proago (see GO, No. 10).
Iniquity 1: ἀνομία
(Strong's #458 — Noun Feminine — anomia — an-om-ee'-ah )lit., "lawlessness" (a negative, nomos, "law"), is used in a way that indicates the meaning of being lawlessness or wickedness. It is usual rendering in the NT is "iniquity," unrighteousness.
It occurs very frequently in the Sept., especially in the Psalms, where it is found about 70 times. It is used.
I believe in the fifty first Psalm written by David's after he sinned against God. David was so steeped in his sin that God used the prophet Nathan to bring it to his attention. For David had conceived a plan to execute Uriah by arranging for him to be on the front lines during battle hoping for his expiration in an effort to acquire his wife Bathsheba and conceal his sin. David writes in Psalm 51 King James Version (KJV).
51 Have mercy upon me, O God, according to thy lovingkindness: according unto the multitude of thy tender mercies blot out my transgressions.2 Wash me throughly from mine iniquity, and cleanse me from my sin.3 For I acknowledge my transgressions: and my sin is ever before me.4 Against thee, thee only, have I sinned, and done this evil in thy sight: that thou mightest be justified when thou speakest, and be clear when thou judgest.5 Behold, I was shapen in iniquity; and in sin did my mother conceive me.6 Behold, thou desirest truth in the inward parts: and in the hidden part thou shalt make me to know wisdom.7 Purge me with hyssop, and I shall be clean: wash me, and I shall be whiter than snow.8 Make me to hear joy and gladness; that the bones which thou hast broken may rejoice.9 Hide thy face from my sins, and blot out all mine iniquities.10 Create in me a clean heart, O God; and renew a right spirit within me.11 Cast me not away from thy presence; and take not thy holy spirit from me.12 Restore unto me the joy of thy salvation; and uphold me with thy free spirit.13 Then will I teach transgressors thy ways; and sinners shall be converted unto thee.14 Deliver me from bloodguiltiness, O God, thou God of my salvation: and my tongue shall sing aloud of thy righteousness.15 O Lord, open thou my lips; and my mouth shall shew forth thy praise.16 For thou desirest not sacrifice; else would I give it: thou delightest not in burnt offering.17 The sacrifices of God are a broken spirit: a broken and a contrite heart, O God, thou wilt not despise.18 Do good in thy good pleasure unto Zion: build thou the walls of Jerusalem.19 Then shalt thou be pleased with the sacrifices of righteousness, with burnt offering and whole burnt offering: then shall they offer bullocks upon thine altar.
The author mentions Sin, transgressions and iniquity in several areas of this passage of scripture, and was very distinct in his characterization and descriptions. The definitions are clear but I would like to reiterate that sin is the conception through thought, iniquity is the nature and the proclivity of an individual, and the transgresion is the active working of sin and its implementation. I believe David gives us a type and shadow in my humble opinion of how it should be viewed and dealt with. I also believe he gives us a model of the approach to deep contrition and repentance. He then follows up with the proper approach to the arbiter of Grace Our Lord who is long suffering unto us if our repentance is sincere..
The author of Matthew in his documentation of Jesus's words regarding the law said this
Matthew 5:17 (KJV)
17 Think not that I am come to destroy the law, or the prophets: I am not come to destroy, but to fulfil.
I believe one must inquire of the words of Jesus, the author of the Pauline epistles clearly states that Jesus is the propitiation of sin. But from the red letters of Jesus himself not only did HE bear witness of himself, he claimed to have fulfilled the law, not only did He corroborate the law of Moses but He expanded it to contain instances of thought that were sinful and deadly.
Matthew 5:27-28 (NKJV)
27 "You have heard that it was said [a]to those of old, 'You shall not commit adultery.' 28 But I say to you that whoever looks at a woman to lust for her has already committed adultery with her in his heart.
1 John 3:15 King James Version (KJV)

15 Whosoever hateth his brother is a murderer: and ye know that no murderer hath eternal life abiding in him.
Now I believe sin has to be looked at through a lense of the only innocent man to ever walk the Earth, Christ Jesus. Jesus clearly describes in the above scripture the extrapolation and the amplification of the thoughts of humanities hearts and in His fulfillment of the law by remaining sinless not conquers sin and its derivatives He raises the standard and highlights the spiritual approach we should take towards in our view and assessment of the Law and sin.
Therefore, when we view sin we must do it in its entirety, its emanation the perpetual cycle of the lawlessness of our hearts, the structures that we have created, and what's created in the realm of the spirit to advance lawlessness and sin. But in our observation of sin and all of its components we must not forget that God through God's own son Jesus Christ, God has provided the answer for sin in all of its derivatives. Jesus is the answer for our sin problem and in Him offering Himself, He has proven then, now, and forevermore that He is the solution.

About Author