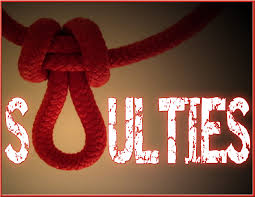 Soul ties .
Genesis 2:24
Therefore a man shall leave his father and his mother and hold fast to his wife, and they shall become one flesh.
Soul Ties souls being knit together, becoming one flesh, etc. A soul tie can serve many functions, but in it's simplest form, it ties two souls together in the spiritual realm.
How are they formed
Sexual relations: Godly soul ties are formed when a couple are married (Ephesians 5:31, "For this cause shall a man leave his father and mother, and shall be joined unto his wife, and they two shall be one flesh."),
Close relationships: King David and Jonathan had a good soul tie as a result of a good friendship (1 Samuel 18:1, "And it came to pass, when he had made an end of speaking unto Saul, that the soul of Jonathan was knit with the soul of David, and Jonathan loved him as his own soul."),
Vows, commitments and agreements: Vows are known to bind the soul (Numbers 30:2), marriage itself consists of vows and binds the two people together (Ephesians 5:31), therefore I have little reason to overlook the concept of vows or commitments as being a means to create a soul tie.
How do we break them
1.  If there were sins committed that formed the soul tie, repentance
2.  Vowed formed break them by renouncing them
3.  if a gift was given that forged the soultie destroy it
4.  forgive the person if you have aught against them
5.  verbally renounce the soul tie through prayer.
1 Corinthians 6:16 ESV
Or do you not know that he who is joined to a prostitute becomes one body with her? For, as it is written, "The two will become one flesh.â€
1 Samuel 18:1 ESV
As soon as he had finished speaking to Saul, the soul of Jonathan was knit to the soul of David, and Jonathan loved him as his own soul.
Hebrews 4:12 ESV l
For the word of God is living and active, sharper than any two-edged sword, piercing to the division of soul and of spirit, of joints and of marrow, and discerning the thoughts and intentions of the heart.
Genesis 34:1-3 ESV
Now Dinah the daughter of Leah, whom she had borne to Jacob, went out to see the women of the land. And when Shechem the son of Hamor the Hivite, the prince of the land, saw her, he seized her and lay with her and humiliated her. And his soul was drawn to Dinah the daughter of Jacob. He loved the young woman and spoke tenderly to her.
1 Corinthians 6:18 ESV
Flee from sexual immorality. Every other sin a person commits is outside the body, but the sexually immoral person sins against his own body.
Ezekiel 13:18-22 ESV
And say, Thus says the Lord God: Woe to the women who sew magic bands upon all wrists, and make veils for the heads of persons of every stature, in the hunt for souls! Will you hunt down souls belonging to my people and keep your own souls alive? You have profaned me among my people for handfuls of barley and for pieces of bread, putting to death souls who should not die and keeping alive souls who should not live, by your lying to my people, who listen to lies. "Therefore thus says the Lord God: Behold, I am against your magic bands with which you hunt the souls like birds, and I will tear them from your arms, and I will let the souls whom you hunt go free, the souls like birds. Your veils also I will tear off and deliver my people out of your hand, and they shall be no more in your hand as prey, and you shall know that I am the Lord. Because you have disheartened the righteous falsely, although I have not grieved him, and you have encouraged the wicked, that he should not turn from his evil way to save his life,
Genesis 2:24 ESV
Therefore a man shall leave his father and his mother and hold fast to his wife, and they shall become one flesh.
Matthew 5:28 ESV
But I say to you that everyone who looks at a woman with lustful intent has already committed adultery with her in his heart.
Hebrews 13:4 ESV Let marriage be held in honor among all, and let the marriage bed be undefiled, for God will judge the sexually immoral and adulterous.
Acts 4:32 ESV /
Now the full number of those who believed were of one heart and soul, and no one said that any of the things that belonged to him was his own, but they had everything in common.
1 Thessalonians 5:23 ESV
Now may the God of peace himself sanctify you completely, and may your whole spirit and soul and body be kept blameless at the coming of our Lord Jesus Christ./ 20 helpful votes Helpful Not Helpful
Do not be unequally yoked with unbelievers. For what partnership has righteousness with lawlessness? Or what fellowship has light with darkness?
Matthew 5:30 ESV
And if your right hand causes you to sin, cut it off and throw it away. For it is better that you lose one of your members than that your whole body go into hell.
Titus 3:5 ESV /
He saved us, not because of works done by us in righteousness, but according to his own mercy, by the washing of regeneration and renewal of the Holy Spirit,
Deuteronomy 13:6 ESV /
"If your brother, the son of your mother, or your son or your daughter or the wife you embrace or your friend who is as your own soul entices you secretly, saying, 'Let us go and serve other gods,' which neither you nor your fathers have known,
Galatians 5:1 ESV /
For freedom Christ has set us free; stand firm therefore, and do not submit again to a yoke of slavery.
John 10:30 ESV /
I and the Father are one.â€
John 17:20-23 ESV /
"I do not ask for these only, but also for those who will believe in me through their word, that they may all be one, just as you, Father, are in me, and I in you, that they also may be in us, so that the world may believe that you have sent me. The glory that you have given me I have given to them, that they may be one even as we are one, I in them and you in me, that they may become perfectly one, so that the world may know that you sent me and loved them even as you loved me.
Matthew 5:33-37 ESV /
"Again you have heard that it was said to those of old, 'You shall not swear falsely, but shall perform to the Lord what you have sworn.' But I say to you, Do not take an oath at all, either by heaven, for it is the throne of God, or by the earth, for it is his footstool, or by Jerusalem, for it is the city of the great King. And do not take an oath by your head, for you cannot make one hair white or black. Let what you say be simply 'Yes' or 'No'; anything more than this comes from evil.
Luke 10:18-19 ESV
And he said to them, "I saw Satan fall like lightning from heaven. Behold, I have given you authority to tread on serpents and scorpions, and over all the power of the enemy, and nothing shall hurt you.
Psalm 19:6-13
Its rising is from the end of the heavens, and its circuit to the end of them, and there is nothing hidden from its heat. The law of the Lord is perfect, reviving the soul; the testimony of the Lord is sure, making wise the simple; the precepts of the Lord are right, rejoicing the heart; the commandment of the Lord is pure, enlightening the eyes; the fear of the Lord is clean, enduring forever; the rules of the Lord are true, and righteous altogether. More to be desired are they than gold, even much fine gold; sweeter also than honey and drippings of the honeycomb. …
Romans 1:20 ESV /
For his invisible attributes, namely, his eternal power and divine nature, have been clearly perceived, ever since the creation of the world, in the things that have been made. So they are without excuse.
Jeremiah 17:7-8 ESV /
"Blessed is the man who trusts in the Lord, whose trust is the Lord. He is like a tree planted by water, that sends out its roots by the stream, and does not fear when heat comes, for its leaves remain green, and is not anxious in the year of drought, for it does not cease to bear fruit.â€
Acts 2:1-47 ESV /
When the day of Pentecost arrived, they were all together in one place. And suddenly there came from heaven a sound like a mighty rushing wind, and it filled the entire house where they were sitting. And divided tongues as of fire appeared to them and rested on each one of them. And they were all filled with the Holy Spirit and began to speak in other tongues as the Spirit gave them utterance. Now there were dwelling in Jerusalem Jews, devout men from every nation under heaven. …
Psalm 19:6-12 ESV /
Its rising is from the end of the heavens, and its circuit to the end of them, and there is nothing hidden from its heat. The law of the Lord is perfect, reviving the soul; the testimony of the Lord is sure, making wise the simple; the precepts of the Lord are right, rejoicing the heart; the commandment of the Lord is pure, enlightening the eyes; the fear of the Lord is clean, enduring forever; the rules of the Lord are true, and righteous altogether. More to be desired are they than gold, even much fine gold; sweeter also than honey and drippings of the honeycomb. …
2 Timothy 2:22 ESV / 5 helpful votes Helpful Not Helpful
So flee youthful passions and pursue righteousness, faith, love, and peace, along with those who call on the Lord from a pure heart.
Galatians 3:28 ESV /
There is neither Jew nor Greek, there is neither slave nor free, there is no male and female, for you are all one in Christ Jesus.
1 Corinthians 12:12-26 ESV /For just as the body is one and has many members, and all the members of the body, though many, are one body, so it is with Christ. For in one Spirit we were all baptized into one body—Jews or Greeks, slaves or free—and all were made to drink of one Spirit. For the body does not consist of one member but of many. If the foot should say, "Because I am not a hand, I do not belong to the body,†that would not make it any less a part of the body. And if the ear should say, "Because I am not an eye, I do not belong to the body,†that would not make it any less a part of the body. …
About Author