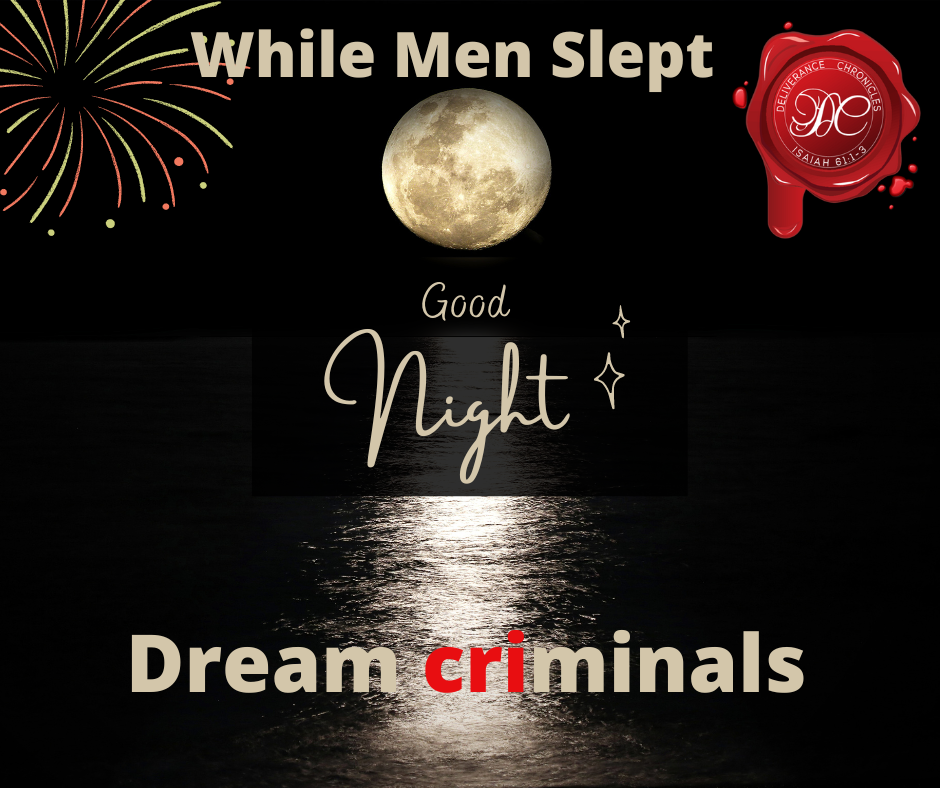 Bible Text: Mathew 13:25.
" But while men slept, his enemy came and sowed tares among the wheat and went his way"
Who is a Spiritual Robber?
As defined in John 10:10.
The thief cometh not, but for to steal, kill and to destroy..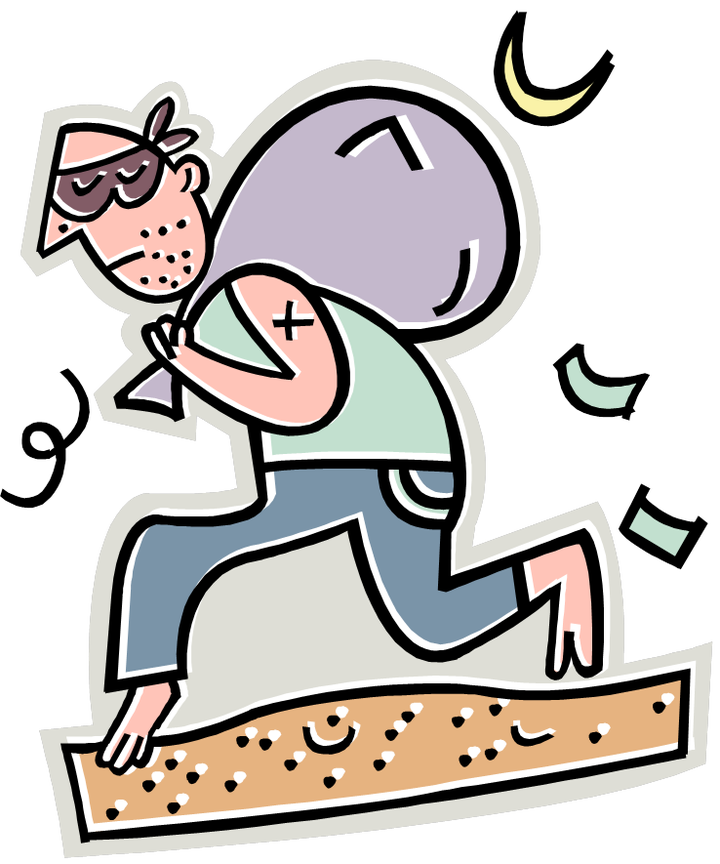 Meaning that, A spiritual robber is any spirit or being or activity or habit in us or around us, with intentions to steal, kill or destroy.
Mostly understood as a spiritual activity carried out with the permission of his victim knowingly or unknowingly, which leaves the victim in a terrible state.
Most destinies have been ruined by the works or activities of spiritual robbers.
How to identify Spiritual Robbers in our life .
From our bible text Mathew 13:25, the beginning of that verse says , "But while men slept "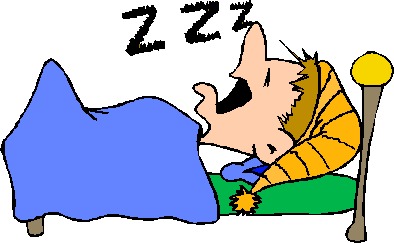 The Following listed below are signs that Spiritual Robbers are in your life or around you.
A. Prayerlessness _
Mathew 26:41 says
"Watch and pray, that ye enter not into temptations, the Spirit indeed is willing but the flesh is weak"
When you notice you can't pray as usual or for a longer period, then you should know that the Spiritual Robbers are at work.
B. Spiritual Blindness. The inability to discern or see the invisible.
In 2 Kings 6:7.. Elisha prayed for His servant's eye to be open, to see what the physical eyes could not see.
C. Spiritual deafness: when you can't understand or hear what God is saying.. You cannot hear the inaudible.
John 8:43
"Why do ye not understand my speech even because ye cannot hear my word.
D. Demonic dreams.
Most dreams are not from God.they are evil dreams to steal, kill or destroy his victim.
For example.
* When you see yourself eating unnecessarily or being forced by someone to eat in the dream.. That is spiritual robber at work.
*When you see yourself making love or having sex in the dream..
*When you loose your hair, your bible, money, shoe or something precious and you couldn't recover or find it in the dream.
* When you see dead relatives or coffins
And so on,
Genesis 40:16_19.
[The chief baker of Pharoah had a dream that led to his death.
E. Monitoring or familiar Spirit.
They can peep into your life or follow you up and down to stop you from succeeding.
They have monitoring tools like evil mirror or evil pot.
They also have monitoring representatives in form of animals or insect . E.g wall gecko, spiders, birds, cockroach, rats etc.
Isaiah 8:19.
"And when they shall say unto you. Seek unto them that have familiar spirits and unto wizards that peep and that mutter, should not a people seek unto their God? For the living to the dead?
F. Sickness
When you notice you keep spending money on a particular illness and still no improvement, that is a Spiritual Robber to rob you of your health and money.
Luke 8:43
"And a woman having an issue of blood twelve years, which had spent all her living upon physicians, neither could be healed of any.
G. Bad habits or lifestyle.
Examples;
Drunkenness
Laziness
Prostitution
Idolatry
Anger
Telling lies
Womanizing
Living a life of deception
Masturbation
Watching pornography
Gambling
Giving and taking bribe
Abortion
Occutism
Witchcraft practice
Unforgiveness
Heresies and so on.
Galatians 5:19_21
In the above verses, All the activities of Spiritual Robbers were listed as works of the flesh.
How to deal with them
*First is to identify your own Spiritual Robbers
*Secondly, is to ask God for mercy concerning the door you opened to spiritual robber to enter your life.
*Thirdly, close the door against the Spiritual Robbers, by sending them packing with fire prayers.
If you have not given your life to Jesus Christ or you have backslided, now is the time. Surrender your life to Jesus now because that is the first step to receiving Help from God and is only in the name of Jesus Christ that you can be saved.
Philippians 2:9_11
"Wherefore, God also hath highly exalted him and given him a name which is above every name, that at the name of Jesus, every knee should bow, of things in heaven and things in earth and things under the earth.
And that every tongue should confess that Jesus Christ is Lord, to the glory of God the Father.
If you want to surrender your life to Jesus, Say this short words of prayer below in faith.
"O Lord Jesus
I know am a sinner
I want you in my life
I surrender all I have to you Jesus
Please forgive me my sins.
I promise to live for you.
From now on, I make you Jesus Christ, My Lord and Savior.
Wash me with your blood Jesus.
Satan , leave me alone.
I am married to Jesus.
Thank you Jesus for saving my soul.
For in Jesus name I pray.
Amen.
(If you said or prayed that prayer, accept my congratulations, you are now a child of God.)
In Conclusion;
Many unfortunately have one or more spiritual robbers in their life, home, office and even in the church.
If you don't stop them, they will stop you.
Pray these prayers below aggressively and with faith
Prayers:
1. Father, I thank you that you will give me victory over my known or unknown spiritual robber in my life and family in Jesus name.
2. Lord forgive me and wash me with the blood of Jesus, for every door I opened to spiritual robbers.
3. I repent of my sins that opened the door to spiritual robber.
4. My father, let your light shine and expose every spiritual robbers in our churches and paralyse their activities.
5. I close every door opened to spiritual robbers in My life and family in Jesus name.
6. Every dream aborting my testimonies expire now in Jesus name
7. My spiritual blindness and deafness be healed by the fire of God.
8. Fire of God locate the store house of my spiritual robbers and release all they stole from me. In Jesus name
9. My lost glory where are you. Return to me now by fire in Jesus name.
10. Every sickness in my body expire now in the name of Jesus.
11. Every monitoring spirit from my father's house and mothers house or in law house, I curse you today, loose your hold over my life in
Jesus name.
12. Every familiar Spirit agent in form of wall gecko, cockroaches, spiders,rats, birds, catch fire and die in Jesus name.
13. In Proverbs 6:30_31
Says in a nutshell, that when a thief is caught, he shall restore all he stole in seven folds..
Say this prayer..
"My father deal with my spiritual robbers and let them pay back all they stole from me in seven folds in Jesus name.
14. Begin to cover all your prayers and their answers with the blood of Jesus Christ.
15. Thank God for answers to prayer.
About Author