Understanding the Root of Witchcraft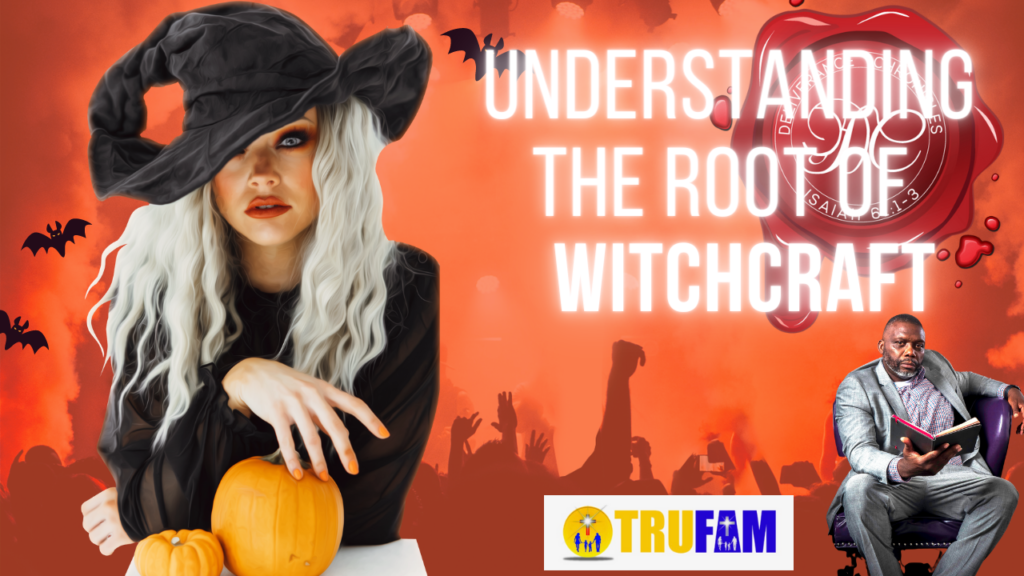 MESSAGE OBJECTIVES:
• Understanding the root of witchcraft
• Understanding the categories of witchcraft
• Understanding the instruments of witchcraft
• Understanding how to uproot and destroy witchcraft powers and operation
• Understanding weapons of warfare against witchcraft.
SCRIPTURES
Exodus 22:18, 2Chronicles 33:6, 1Samuel 15:23, Acts 8:9,11; 2Kings 9:22, Micah 5:11-12, Nahum 3:4-5, Galatians 3:1, Daniel 2:2,10, Deuteronomy 18:10, Numbers 23:23, Ephesians 6:10-18, Leviticus 20:26-27.
UNDERSTANDING THE ROOT OF WITCHCRAFT
Witchcraft is the practice of magical skills and abilities to commune with spirits, deities, dead ancestors and cast spells, hexes, and jinxes. It means practicing divination to manipulate, control, derail, exchange, and divert people's destiny, blessing, and favor. Witchcraft can also be described as an act of diversion by manipulation to control a person's willpower. Witchcraft operates in the realm of darkness, and the word of God includes it in the works of the flesh (Galatians 5:19-21). When a man is manipulated to do what he doesn't want, it is called witchcraft. Witchcraft has its roots from the ancient days. We can see in the old testament book of Exodus 22:18 that God Almighty commanded the people of Israel not to allow witches to exist among them. Also, in Leviticus 20:26-27, God commands that witches should be stoned to death. This means that witchcraft is part of ancient history, and the judgment for such individuals or persons is death. God does not establish witchcraft or rebellion, so we must not allow it in any area of our life.
UNDERSTANDING THE CATEGORIES OF WITCHCRAFT
There are two categories of witchcraft
• Fleshly or Carnal witchcraft
• Occult Witchcraft
FLESHLY OR CARNAL WITCHCRAFT
Fleshly or carnal witchcraft is practiced in so many ways, which are:
• Stubbornly pursuing someone to cause destruction or damage (Exodus 14:22-27)
• Attempting to read the mind of another person, thereby misinterpreting his intents (1Samuel 7:28-29)
• Attempting to prove your worth through the manipulation of others.
• Attempting to influence someone negatively to do something against his will (Genesis 39:7-12)
• Taking what belongs to someone forcefully or unlawfully. (1Kings 21:1)
• Wishing other people's blessings are yours and your failure theirs.(1 Samuel 18:6-9)
• Rebellion against God and his appointed authority. (1Samuel 15:15-24)

OCCULT WITCHCRAFT
Occult Witchcraft is a practice through satanic power; these are some of their ways of operations.
• To monitor a person's destiny with the aid of satanic power.
• Attack or oppress their subject with failure and setback.
• They gather against the light through spiritual aid. (2Corinthians 4:3-4)
• They renew their covenant with Satan through bloodshed.
• They place their mark and signature on their subject.
• They can forcefully initiate people through blood relations, such as sex and food.
• They can place false blessings on people to entice them to join them.
UNDERSTANDING THEIR INSTRUMENTS (occult witchcraft)
Witches have instruments of operations that they use in their coven (meeting place), which are as follows:
• Cooking cauldron: a pot where witches mix and burn petitions with their words or wish written on them.
• Flying broom: this is an instrument witches use to fly.
• Chalice: with this, they drink blood.
• Paten: the flat plate or pentacle they use to energize or strengthen themselves.
• Wand: it is used to cast a spell
• Censer: used to dispense incense
HOW TO UPROOT/DESTROY WITCHCRAFT POWERS.
In as much as their operation are deadly and wicked, there is a way out to uproot and destroy their operation, scatter and destroy them. To uproot and destroy witchcraft powers, we must first,
• Surrender your life totally to Jesus by accepting Him as your Lord and personal savior and yielding totally to the will of the Lord Jesus by living in holiness
• Engage in spiritual warfare
• Be sensitive to the Holy Ghost and spiritual insights.
• Practice fervency in prayer and in serving God
• Gain victory over your thoughts and dreams.
• Become effective in using the sword of the Spirit, (Word of God) (Revelation 13:10)
WEAPONS OF WARFARE
Each warfare has weapons and tools, so also in spiritual warfare. To engage witchcraft powers and overcome and destroy their root, we should confront these powerful weapons: as follows.
• The Word of God is written in Jeremiah 23:29, "Is not my WORD as a fire? saith the Lord and like a hammer that breaks the Rock into piecesâ€. In Exodus 22:18,†Thou shall not suffer a witch to liveâ€. Micah 5:12″ The Lord says he will cut off witchcraft ". Also, Leviticus 20:27″ says that a witch shall be stoned to deathâ€. Also see Isaiah 49;24-26, Hebrews 4:13, Jeremiah 10:11
• The blood of Jesus: Revelation 12:11″ And we overcome him by the blood of the lamb and word of our testimony†and in Zechariah 9:11″ because of the covenant of the blood I Will set your prisoners freeâ€. Also, see Hebrews 9:22 and Hebrews 12:24.
• The name of Jesus: Philippians 2:9-11″ Wherefore God hath highly exalted him and given him a name which is above every name, that at the name of Jesus, every knee should bow of things in heaven and things in earth and things under the earth; and that every tongue should confess that Jesus Christ is Lord, to the glory of God the Fatherâ€. See also Proverbs 18:10, Romans 10:13, Joel 2:32.
• The high praises of God and worship: Psalm 149:6-9″ Let the high praises of God be in their mouth and a two-edged sword in their hand: to execute vengeance upon the heathen and punishment upon the people; To bind their kings with chains and their nobles with fetters of iron; To execute upon them the judgment written: this honor has all his saints. Praise ye the Lordâ€. See also 2chronicles 20:21-22 and Acts 16:25.
Prayer:
About Author